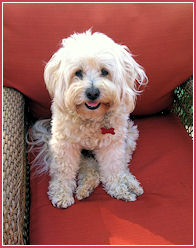 Toby is a pretty lucky dog! And we are pretty lucky owners to have found Toby in the local animal shelter. This wasn't Toby's first time there, we learned, which makes him (and us) even more lucky to have found each other. You see, Toby was previously adopted from the shelter as a "stray", and then returned to the shelter within the first month, because his new owners could not keep him. That's where we come in ...
One day my daughter and I went to the local animal shelter to adopt a kitten. That's when we first saw Toby---a fluffy, white haired gentle dog, about one year old and full of energy. He had just gotten a bath, and he was prancing around like a show dog. My daughter couldn't resist him, and knew he would make a great pet, so she adopted him, all along with the idea of eventually giving him to us, which she did.
So, that day, we adopted a tiny little tortoise shell kitten which we named Abby, and our daughter adopted Toby! The two of them became great friends, and kept each other company while entertaining us with their playful antics.
They continue to this day to give us so much enjoyment----I even wrote a book about Toby, called Toby Got Out!, which is based on a true story of how he became an escape artist, and explorer, but always came back home after one of his adventures. As for Abby, well, ask anyone who knows her, and they will tell you that she is just about the friendliest cat you can imagine, with a somewhat quirky personality, who loves petting, and loves the attention she receives from passerby's in the neighborhood. Many people stop in to just see Abby, but then, that's another story----so back to Toby!
Toby is nine years old now. He's still a sweet, gentle dog, with soft brown eyes, who is loyal, faithful, fun loving, AND, still an escape artist and explorer, just waiting for the opportunity to go on an adventure! We hope you enjoy Toby's story, and his book, and encourage you to adopt an animal from a shelter. Who knows--it just might be YOUR LUCKY DAY!